Works for Waters Edge Counseling
I was born and raised in Savannah, Georgia, and am a 2010 graduate of Savannah Country Day School. For my
undergraduate degree, I attended the University of Georgia and majored in Exercise and Sports Science. My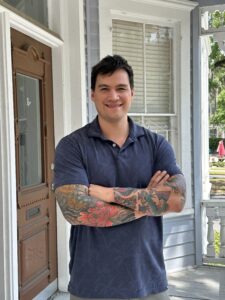 former career in medical sales eventually led me to Birmingham, Alabama. In the past two years, I changed career paths and am currently pursuing my dream job as a counselor.
I have a Master degree in Clinical Mental Health Counseling from the University of Montevallo in Alabama. While working at Waters Edge Counseling, I am under supervision working toward becoming a Licensed Professional Counselor.
In my practicum and internship experience, I worked at Unbound Grace Ministries, a recovery ministry. I worked with clients in recovery and also family members impacted by addiction. I also served clients experiencing depression, anxiety, grief/loss, and life stressors. I am here to provide a safe space for clients and walk through the difficulties of life with you.
I am appreciative of being a member of the Waters Edge Counseling team, and I look forward to
partnering with you. Please call 912.421.2932 or email to make an appointment with Logan.